Macintyre River Walk at Inverell

The Alternative starting point is the intersection at Byron and Swanbrook Road, where Byron becomes the Ashford Road. The path leads to the Macintyre River and onto Sweaney Lane. The path along Sweaney Lane leads to the O'Connor Street Bridge. You will have to cross the road at the O'Connor Street Bridge. From that point on, the path is unbroken to John Northey Lookout. It is 3.89 km from the Alernative starting point to John Northey Lookout. At a walking pace of 4.7 km per hour, it will take 50 minutes to reach the Lookout.

At the Starting Point from the O'Connor Street Bridge, you will be walking parallel to Sweaney Street, then Captain Cook Drive, onto Campbell Park. From Campbell Park parallel to Campbell Street, Glen Innes Road / Gwydir Highway. Just prior to the Tingha Road Bridge the path splits and one path leads to Sinclair Park, the other path continues onto the Tingha Road Bridge. From the Tingha Road Bridge the path eventually leads to Clive Street where John Northey lookout is situated.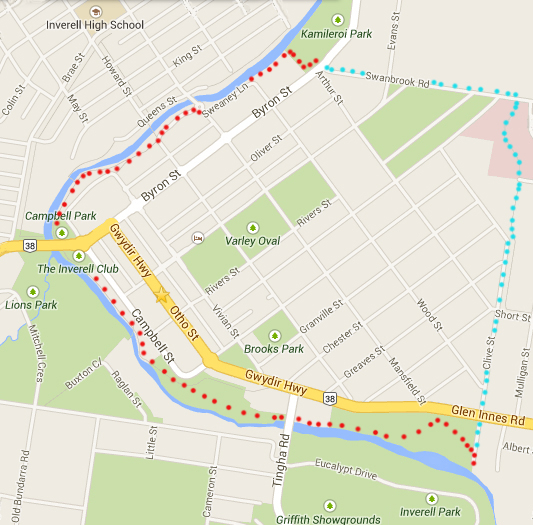 ... River Walk ... Return to starting point.

Continuation of the River Walk
to Lake Inverell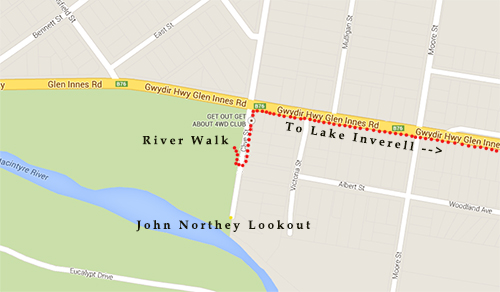 The walk continues from John Northey lookout / Clive Street to Lake Inverell. However, you will have to cross Clive, Victoria, Moore, Brewery and Lake Inverell Drive before the path is unbroken leading to

Return to Alternative Starting Point
...
From John Northey Lookout, you can cross the Glen Innes Road and follow Clive Street all the way to the Jehovah's Witnesses Kingdom Hall at the end of Clive street, where you can join another walking track that will pass by the Inverell District Hospital. You will then cross the Swanbrook Road which you will then follow all the way to the intersection of Byron and Swanbrook - the original alternative starting point.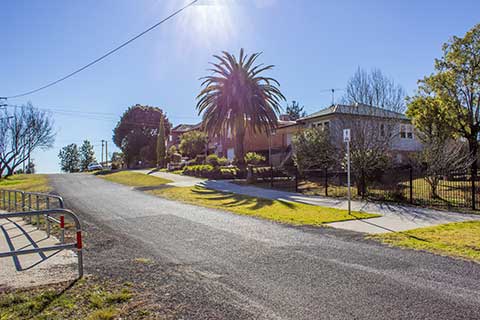 Clive Street Inverell
The photographs for the River Walk
were taken between June and July 2013 using a
Canon 600D / Rebel T3I and a few selected photos with a Nikon Coolpix S2600.
Two hundred and twenty photos were used for the film.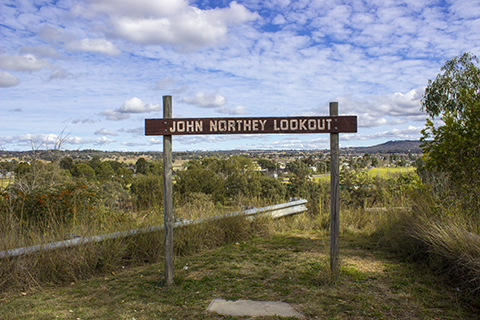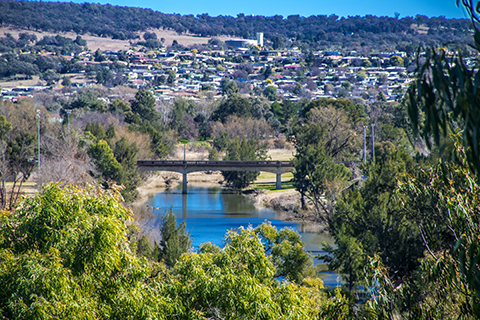 The Tingha Road Bridge photographed from John Northey lookout on 1 Augsust 2017
The River Walk also has a path that splits, that leads to Sinclair Park.
to the
Glen Innes Road and Sinclair Park

to John Northey Lookout